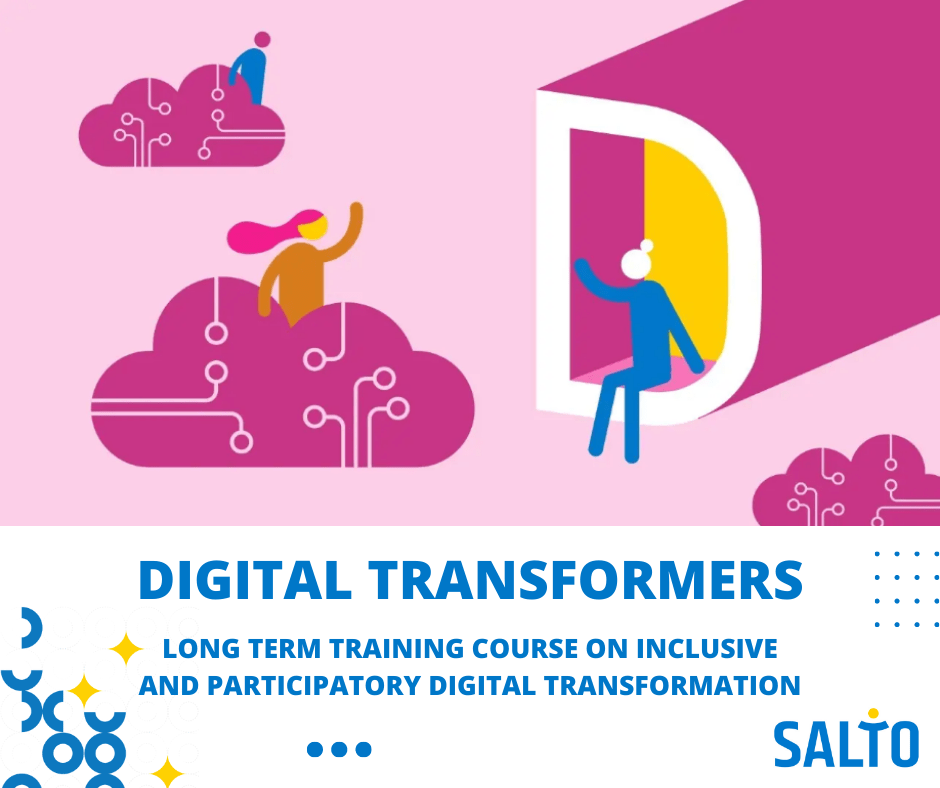 The training Digital Transformer includes blended capacity building about digitally transforming youth work in the form of 1 residential training course in Lithuania, 1 study visit in Armenia and 4 online trainings.
Online training session will take 2 days with half-day online meetings and individual learning quests in the afternoon. The same participants should take part in the whole programme.
SALTO Participation & Information Resource Centre (SALTO PI), SALTO Inclusion & Diversity Resource Centre (SALTO I&D) and 10 National Agencies, with SALTO Eastern Europe and Caucasus (SALTO EECA) joined forces to address the topic of inclusive and participatory digital transformation to encourage the transformation of online and offline spaces.
Aims of the training
To increase awareness about different aspects of digital transformation in the youth field and considering inclusion, participation and diversity
To increase competences of youth workers and provide them with new approaches to digital transformation in youth work
To utilise knowledge and experiences on digital transformation from diverse sectors and explore the potential of cross-sectoral cooperation to enrich youth work.
Profile of participants
youth workers, working directly with young people, especially dealing with inclusion & participation topics
willing to approach digital transformation in their work
interested in the training topics and have a strong motivation to apply digital transformation topics in their youth work activities
able to take part in the entire long-term process
able to communicate in English
able to have access to the internet, computer, video camera, microphone for the online sessions
if a participant misses more than 2 activities, they will be removed from the training course.
Expected outcomes
By the end of the training course? Participants will be able:
to design inclusive and participatory digital youth work activities, knowledge of tools to use and processes
to ensure digital ethics, safety and privacy of young people
to utilise digital transformation opportunities in youth work ( emerging technologies, maker cultures, gaming, changing trends in the world of work, etc.)
to use opportunities of EU youth programmes to finance digital youth work activities
to approach challenges and barriers like the digital divide, exclusion, ensuring sustainability, etc.
To use resources and knowledge from other sectors as well as expand cooperation opportunities in their communities
To increase international cooperation network
---
Background of the training
In the European youth field, digital transformation is understood as a multi- stakeholder and inclusive process encompassing the co-design, implementation and utilisation of people-centred digital technologies with and by young people, youth workers and other relevant stakeholders. Digital transformation changes the way most areas of the youth field operate. It describes the evolving integration of digital technologies into social, economic, and cultural processes and structures.
The framework of the digital transformation in EU Youth field was mapped in the study, coordinated by SALTO PI and are:
Multistakeholderism and participation
Skills and education
Access and infrastructure
Strategy
Innovation
Sustainability
Ethics
Digital well-being
During the training, we would like to address the topic from a variety of perspectives and narratives, such as emerging technologies, digital rights, digital sustainability, digital youth participation, digital policy making, digital education, cross-sectoral approaches.
The important thing to be mindful about before applying is the commitment to the whole process, so that 7 months from October on, will really be dedicated to transforming the online and offline digital spaces and tackle the different perspectives in order to integrate it in your work.