Minecraft as a City Planning Tool
Year of production: 2023
Background
The city of Jyväskylä in Finland established a digital youth work advisory board, to act as a multi-professional development group made of youth workers, from those doing open youth work to workers in the city's youth centres. Every year the advisory board decides the guidelines on what specific youth work topic should be addressed and how, inside the city's youth services, using digital youth work practices. In 2021 the board decided that the theme for the year would be digital inclusion and participation. After that, as youth workers in the city our task was to develop new activities within this framework, combining digital tools and platforms with standard youth work methods. We chose Minecraft as a platform and discussions with young people as a method to experiment with videogame-based digital youth work.
Our idea was to contact City Planning officers and, together with them, ask youngsters how they would build public parks, what kind of new buildings they would make on the old marketplace to be renovated, and what kinds of services should be in the new cultural centre. The plans would then be presented to the Urban Planning committee when finished.
We had to develop new ways to hear youth opinions, in order to keep up with their culture, which is largely reliant on videogames and digital media platforms. Our methods should adopt new technologies and platforms to keep young people's participation as easy as possible. There had been a significant drop in youth participation in elections in Finland and a rise in radicalisation and youth gangs. This was considered alarming, and we must take action to prevent this development as a part of our tasks.
In discussions with young people, they noticed that democracy and participation should be so accessible and available by now with all the technology and apps available. Still, our participation methods are primarily ways of representative parliamentary democracy, which is time-consuming and inefficient in their opinion.
So as youth workers, we decided to bring participation to young people directly on their turf. As mentioned, we decided to use Minecraft.
City planning and participated design
Setting up a Minecraft camp was a group effort. Our participation and equality coordinator in the youth centre assisted youth workers in lobbying for this idea with the City planning office. She had already worked with them and knew who to contact. It is crucial to find the right officers, who are adventurous enough to try something completely new and that nobody has ever done before.
Our most valuable asset to share with them was that we could contact such a target group that they have not ever dreamt of reaching: the local young people population. The other positive point was that we had the possibility to make sort of 3D models from young people's ideas in Minecraft, and turn them into videos to show the City Council. Luckily they also saw the vast PR-potential for their work. We finally made their work seem cool for the youngsters.
Minecraft characteristics: why this game?
We will now provide an explanation of the distinct characteristics that made us choose Minecraft as a platform for our activity.
Minecraft is the most-sold videogame in the world. With 238 million copies sold, it has been a huge cultural phenomenon since it was published in 2011. It has been franchised from the original game to multiple different versions and is available for all platforms – from phones to consoles. One could claim that modern-day children know the world of Minecraft better than the geography of Europe. As it is, at least in some way, familiar to most youngsters, it is the perfect platform to work with. When the user interface and used media are commonly known, we do not need to spend time getting familiar with the tools at hand, and we can concentrate more on creativity.
Using games for hearing young people's opinions could also benefit youngsters with dyslexia, autism or other special needs: when using less written material or social interaction, we lower the bar for more accessibility. One last obvious good side with Minecraft is that it is a PEGI-7 rated game, so you don't have to bear the age limits in mind while using it with youngsters.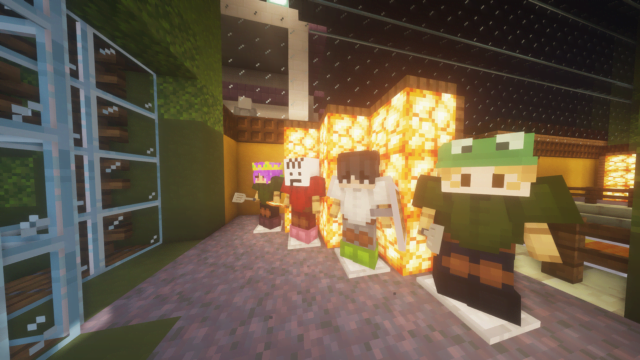 What is Minecraft?
Minecraft is an open-world survival game. In this game, we would like to underline the term open-world. The Minecraft world is virtually infinite. The basic version of the game lets you play in a "world" over 4 billion square kilometres wide, which is roughly eight times the size of planet Earth. In the game, there are two fundamental modes: survival and creative. In survival mode, you are a player spawn without any tools and materials; you must gather materials to stay alive in harsh conditions, facing threats such as zombies, skeletons and creepers coming at night to harm you. Creative mode is the complete opposite. You have all the tools and materials at hand, you are immortal, and… you can fly.
Minecraft has over 1000 different items and materials to mine, build and use, making the game one of the most versatile experiences ever. Further on, more details on this videogame will be described.
Minecraft has several different versions. The two most important ones are Java Edition and Bedrock edition. The benefits of the Bedrock edition are that it is a cross-platform (aka crossplay) version. It means you can play the game with your friends no matter what platform you use. Bedrock supports all the common devices from Android to iOS ones, and all the major consoles, plus Windows PCs. Bedrock edition also works natively in VR (see further on: How to set up VR).
On the other hand, the Java edition works on every platform with Java support. The benefits of the Java edition are that it is highly moddable and already has thousands of free "mods", maps and plugins. It can be slightly more complicated for beginners, but the youngsters are the best teachers here. Involve them in this process early on and let them guide you through, and you will be getting great results in no time.
How to play Minecraft
Minecraft can be played alone but is at its best played online with friends. You can play Minecraft with your friends in three ways. The first is to open the "world" you are playing on your device to your friends, who can join your game by connecting directly over the same WiFi. They can play as long as your device is connected to the internet and the game is running.
The second way is to join a ready-made external server. You can search the internet address for open-to-public servers through search engines. Most of these servers have modifications ("mods") adding "mini-games" that you can play with your friends. On these servers, the game is not about mining, scavenging and building anymore. It is more like a subgenre of Minecraft gaming, entirely dedicated to succeeding in these games. Using an external server, your friends can continue playing when you quit playing, the game is not running on your computer, and the game is saved to the server.
Unfortunately, public servers with collaborative building capabilities are not popular because of a behaviour called "griefing": griefing is when someone goes to your world to blow up your buildings with TNT. Why? Just because.
The third way to play Minecraft with your friends is also the solution against griefers: start running your own private external server. This takes about 5 minutes, and you are set. You head up to https://www.minecraft.net, download your copy of the Minecraft server software for free and install it on your own computer, and your friends can play until you shut down your computer. Or you can use some dedicated server hosting services, with easy-to-install mods.
And how to build the exact map of the city, where young people would then go and rebuild the spaces? For our activity, we used a ready-made map, exactly reproducing our city centre of Jyväskylä. The map was generated starting from Open Street Maps data, with the help of a specialised company, which offers this paid service. Our map considered 3 square kilometres of the city centre of Jyväskylä.
VR experience can be an excellent ending for the group experience, when they can see all they have built from their first-person view. It truly gives the last nudge to the immersive experience, so we would recommend it as a final touch to the activity.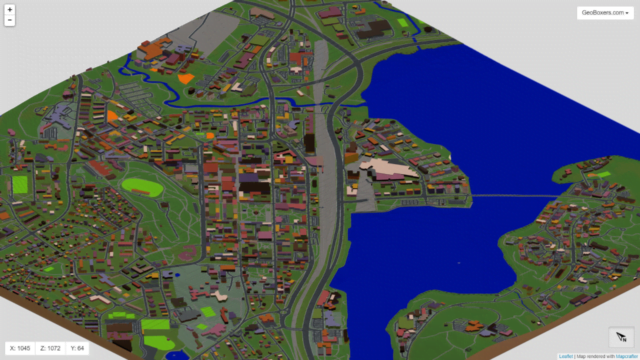 How to organise the workshop
Our groups were made of 10 participants each, as we have 10 computers in our centre (plus one server, and one PC connected with the VR headset). First of all, we went to see the actual places we wanted to renovate. We took digital cameras with us and took pictures from real building sites. We had some initial planning made, and the youngsters started to pitch some ideas to each other.
Our experience is that when we were pitching ideas to each other, groups formed automatically. People with similar ideas started to fulfil each other's proposals and wanted to work together on the later building phase.
Our days were scheduled, and everyone knew there were mandatory breaks from just sitting at a computer. We had short breaks from time to time, with different physical activities. We also had a VR setup to play Beat Saber or other similar games that make you move your body while playing.
Youngsters were divided into a few groups and used Discord to communicate with each other while being connected online together for planning and building the new city spaces on the common server. Some groups did their build slightly faster than others and concentrated on playing Minecraft server games with each other. And that is just fine: they were still making new friends and having a blast. Other groups took their time with the builds and even stayed after hours, when the computer room was in public use, to finalise their creation.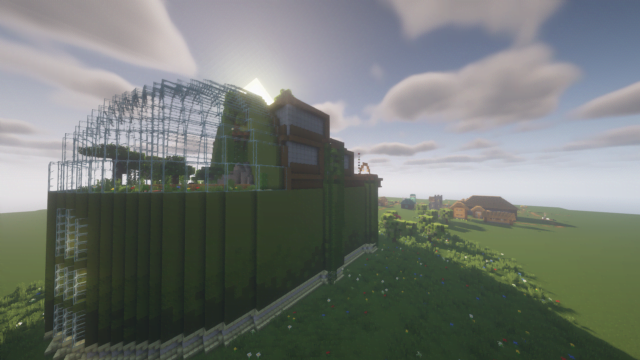 On the last day, we packaged the result into videos showing their builds. Videos from the game were captured with OBS video broadcasting software, webcams and green-screens. In the video, the youngsters narrated a tour of the buildings that they made. These videos could be considered as pitching ideas to City Council members.
On the second time, we also made conceptual images from the builds, as if the Minecraft models were real architectural designs. We even located pictures of the participants in each image they made.
Lessons learnt
We have had this experience a couple of times now. Here are a few heads up we have gathered so far:
Know your group! Contact the parents and ask if there are some essential details to know about their children. The key is making everyone feel safe, and first impressions are crucial. What pronoun do they want to use? Are they better at flying solo, or are they better in a group? How often do they need a break? Do they get cranky or tired when hungry?
Make time for the group to know each other. If the group has youngsters with challenging social skills or other special needs, it might not be best to do basic get-to-know-each-other games. Talking about favourite games and/or superheroes that have been played lately has more input for the group, given the main topic of this whole activity.
Youngsters must feel that their opinions matter, are heard and will be placed into the hands of city officers. On our first venture, a PR specialist from the City planning office visited us on the first day. On the second time, we had a representative from the Business Jyväskylä consortium. Their mission was to brief our participants on our week's mission and give them guidelines on how to do it, but meanwhile to make them feel that their work was being considered and taken into account by the adult community.
The whole activity gave participants the chance to improve their skills in a number of fields that we are listing here:
Participation,
Basics of city planning,
Technology skills,
Social skills,
Healthy game culture,
Approval from adults to their hobby,
Learning by doing,
Photographing, streaming & green screen,
Photo retouching & video editing,
Setting up a Minecraft server,
Minecraft mods & text commands,
Using Discord,
Making new friends,
…and they got to play Minecraft for four days without any adults complaining at all! 😀