We are as strong as the weakest among us
Year of production: 2020
"OECD evidence demonstrates that the pandemic has hit vulnerable groups disproportionately and is likely to exacerbate existing inequalities"
Disproportionate Impacts of COVID-19
The World Health Organization (WHO) declared COVID-19 as a global pandemic on 11 March 2020 (World Health Organization, 2020). Like other pandemics, COVID-19 presented economic and social challenges to some social groups more than others. Studies of the impacts of COVID-19 in many countries have demonstrated imbalanced implications of the pandemic according to gender, ethnicity, and socioeconomic status (Tony Kirby, 2020, W.Qiu; S. Rutherford; A. Mao; C. Chu, 2017, Neeraj Bhala et al., 2020, Fethi Mansouri, 2020). I consider these disparities in the impacts of COVID-19 to be a representation of the inequalities of our societies. For example, COVID-19 has affected mothers due to social isolation and school closure (Titan M. Alon et al., 2020). The economic burden and responsibilities towards children add to the challenge of being socially isolated and scared of contracting the virus. In this sense, gender plays a role in the impacts of the pandemic.
OECD found that vulnerable communities are disproportionately more affected than other communities (OECD, 2020). This includes rural communities and immigrant communities. I believe that it laid the groundwork for a disproportional impact on disadvantaged communities in the form of discrimination, isolation, and health risk. (UNESCO, 2020 , Fethi Mansouri, 2020). Vulnerable communities are likely to be at high risk of virus infection because of pre-existing health issues, lack of proper healthcare, limited access to personal protection equipment, and overpopulated living areas.
We focus on two effects that have economic and social elements, and which might affect youth participation eventually. The first is the rapid digitalisation of services during the pandemic, and the second is the rising economic uncertainty in the post-COVID-19 world. Both realities will continue in the post-COVID-19 era and risk the exclusion of young people based on gender, ethnicity, and socioeconomic status in post-pandemic democratic life.
Digitalisation provides essential services for young people; it also excludes some other young people (Flórián Sipos, 2018). COVID-19 disrupted youth participation (RAY Network, 2020), and digital participation seemed to protect public health. Thus, most youth services went online. It's a reasonable move, but my scepticism stems from the rapid transformation. Some young people in need of these services could fall between the cracks of such instant change. And because digital participation is integral to youth participation in Europe, such "digital divide" calls for concern (Ragnedda, 2017). Digital divide researchers argue that social inequalities in the physical world remained in the digital world, but with extra complexities and factors. Digital inequality is found not just in physical access to the internet, but also in the quality of the equipment, digital competences, and motivations (Van Deursen, Van Dijk, 2011, Van Dijk, 2006). Meanwhile, the global economic crisis created by the pandemic was imminent (Baldwin, R., & Weder di Mauro, B., 2020). Underprivileged families faced economic uncertainty. From one side, their income substantially declined or was at least jeopardised (Fairlie, Couch, Xu, 2020). And from the other side, their spending increased to cover essential goods, childcare, and healthcare (Bibbins-Domingo, 2020).
Potential impacts on Youth Participation
Based on the above findings, I encourage the assumption that youth participation is intertwined with the disproportionate impacts of COVID-19 based on gender, ethnicity, and socioeconomic status. One can assume that youth participation depends on the conditions that COVID-19 imposed on these social groups. The disparities in youth participation are manifested in accessibility and affordability, which are affected by rapid digitalisation and economic uncertainty.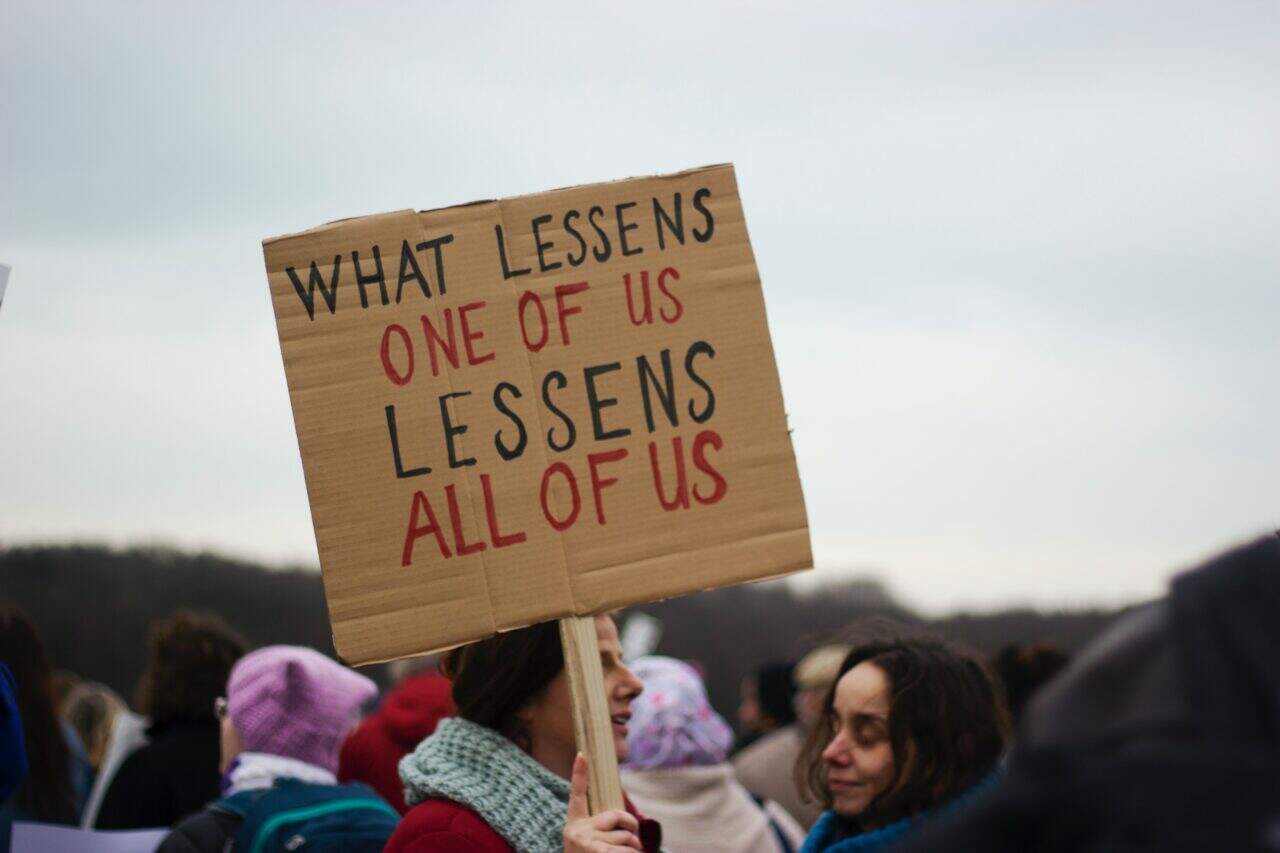 Accessibility to Youth Activities
According to OECD research, the disruption in young people's access to information, education, and employment as a result of the social and economic downturns of COVID-19 is likely to put this young generation on much more fragile ground financially and socially (OECD, 2020). This shows that the post-pandemic era imposed new challenges on young people. In addition, many young people in Europe could have lost their access to youth activities where they used to participate because of COVID-19. 54% of young people participating in the RAY Corona research project stated that the coronavirus pandemic has significantly affected their access to youth activities or projects (RAY Network, 2020). And 50% of total respondents in the same research said that less than one third of young people previously involved in youth activities and projects still have access to them. I believe that vulnerable youth groups may have suffered most due to digitalisation and the economic struggle. In terms of alternative forms of youth participation, they are challenged to participate and to access information physically or virtually. These alternative forms are essential for young people to take part in the democratic process in Europe, either through individual participation in programmes or by participating in collective civic efforts.
Affordability Regarding Participation in Alternative Forms
With the new financial challenges brought by COVID-19, and especially for vulnerable young people, there could be a stagnation in motivation for participation (OECD, 2020). In other words, the current crisis that is experienced individually could overshadow the global crisis and the need for reforms on the collective level. With the risk of being unemployed and possibly getting evicted from one's house, less young people can afford the time and energy, and even less will sustain the motivation to participate effectively in the democratic process. With overwhelming financial and social challenges, I believe that youth are more likely to invest their energy and resources into overcoming individual challenges. This makes their participation in alternative forms a second priority and undermines their presence in collective movements.
BLACK LIVES MATTER case
We have to acknowledge that the BLM movement had an international inspiration to stand against injustices (LOERA, 2020, Black Lives Matter, 2019, California State University, 2020). Since its foundation in 2013, the movement grew and contributed to the fight for racial and social justice. The death of George Floyd on 25 May 2020, sparked the global protests of 2020. George Floyd's death and COVID-19's impacts had three points of intersection. First, Black Americans were more exposed to the COVID-19 virus because of living and working conditions, as well as pre-existing health issues. Floyd tested positive for COVID-19 in April 2020. Secondly, unemployment rates resulting from the lockdown, and the economic crisis of COVID-19 has mostly affected minority communities. Floyd lost his job when the state enforced stay-at-home orders by closing bars and restaurants. Thirdly, Floyd was a victim of racial profiling while dealing with law enforcement. George Floyd represented the three struggles of minorities all over the globe: inadequate healthcare and higher health risks, unemployment and economic uncertainty, racism and social injustice. Floyd's case was a manifestation of the disproportional impacts of a pandemic crisis.
During a global health crisis, the BLM movement managed to encourage youth participation in peaceful demonstrations, inspired people facing unjust barriers to participate, and triggered policy changes! How was it possible? I believe that BLM launched several COVID-19 related initiatives that helped in achieving this (Black Lives Matter, 2020 retrieved on 15 September 2020):
Petitions demanding racial data to be released by governments and research institutions.

Resource Map of physical locations that provides information and resources about the pandemic.

Aid and Relief resource page, which is a collection of hyperlinks and a free mental health hotline, covered some of the challenges that face young people during pandemics.
Although these actions were not directed at young people specifically, I believe that they have encouraged young people to participate in the movement during the events of 2020 in the middle of the COVID-19 crisis. Therefore, I believe that their case is one to learn from when it comes to inspiring youth participation.
This article focused on two specific COVID-19 impacts; rapid digitalisation and economic uncertainty. To conclude the points in the article, we can visually present inequality, equality, equity, and justice in Tony Ruth's animation in the 2019 Design in Tech Report. There is inequality; no doubt about it. It has roots in our system and even in nature. Some ethnicities could be more exposed to diseases because of genetics. Such embedded inequalities are represented in the bend of the tree towards one person. Programmes and opportunities for vulnerable young people promote equality and give them better chances of participating in democratic life. Promoting equality is not enough in times of crisis that hit vulnerable communities more than others. Equality is ineffective in such unfair and unpredicted circumstances of the pandemic. COVID-19 arrived and was unjust to vulnerable young people. Rapid digitalisation and economic uncertainty aggravated other pre-existing inequalities, which prevented youth from participating. They had to catch-up with the rapid digitalisation, and direct their limited resources towards financial survival in the worsening global economy. Efforts visualised by the ladder that youth workers provide for vulnerable youth is no longer sufficient in a digitalised and uncertain economy, because the tree has bent away from them due to the pandemic. They still do not have a fair opportunity to participate. But, with a few actions, BLM offered equity on the way to justice. BLM provided an extension for the ladder, and demanded measures from decision-makers to eliminate the structural injustice visualised in the bend of the tree. BLM and other social justice movements provided information addressed to mitigate health, exclusion, and financial risks facing vulnerable communities. They provided resources to overcome economic burdens that create obstacles to participate. They offered online and offline support and resources. In general, they provided the conditions to allow vulnerable young people to make informed decisions when participating in the movement in any form. Providing mitigating actions to vulnerable communities might give us a chance of overcoming inequality in the past, offer equity in the present, and establish justice in the future. Because if we learnt one thing from the pandemic, it is that we are as strong as the weakest among us.